SO, Valancy never wins at anything. ANYTHING.
Not at knocking over the milk bottles or ring toss. Laughing clowns have NEVER paid up. And, it is always the person next to me that guesses how many jellybeans in the jar.
But I will lament my horrid luck more — because the tide has changed: I won April Bingo!!!!!!
(I am currently doing a silent Bingo Victory Dance)
Yes. This.
Brought to us by the fabulous Shallowreader; if you haven't ever Bingo'd your months reading – you seriously need to get onto this – because not only is it fun – but it completely justifies your ENTIRE months selection. i.e. 'I can't vacuum the house this weekend dear, I am trying to finish this book so I can cross 'Uxurious'* off my bingo card…'
See? TOTALLY Works.
My five in a row were as follows:
• Ice, Ice, Baby: Melting Ice, Rosalie Ash, 1989,
'Julius Korda is as cold as steel, ascetic as a monk, and the only god he worships is the almighty dollar.'
From the moment they meet, young, carefree Victoria was infatuated with Julius. But Julius made it clear that as far as he was concerned she wasn't his type and in any case she was far too young for him. However, everything changed one night – with far-reaching consequences for both…
Unfortunately, I couldn't exactly remember either what that fateful night involved and what the far-reaching consequences were – so I had to have a quick re-read. Apparently Julius is an Antique-Dealer (sort of) and Victoria is the most forceful ingenue I have met in a really long time. She swerved between normal and cheery to manic-pixie-dream-brat. Our Ice Ice comes from Julius, a repressed and cold businessman, who falls head over heels for Victoria, but manages to COMPLETELY hide it until the last 6 pages of the book.
There is dark secret: It involves diapers. So, not so dark, and really not that secret.
• Dear Diary: The Burning Lamp, Frances Murray, 1975
This book is AWESOME. Francis Murray is awesome and if you haven't ever read any of her books – PLEASE go out immediately and find some. I'll wait….
• This Means War: The Valley of the Children, Unity Hall, 1977:
This book was one of those featured in my book brag wall of cover-shame. That cover y'all(!)
The war refers to Moroccan tribal wars in Columb Bechar (the former name of what is now Bechar Province(?) in Algeria). Groups of children have gone missing and Ella, granddaughter of the newspaper owner (but determined to earn her own way) snags her first assignment to discover where they are. Mike Shields, darkly handsome and oh-so unimpressed to be weighed down with a newbie, is sent along to take pictures of the 'rescue'. Ella is awkward and green, but determined. Mike likes her despite himself. And it settles into an uneasy alliance – until they both get kidnapped too.
This was such a lovely book. And despite its very light touch, had some surprising depth about the treatment of children in war-times and the difficulty and struggle of women making their mark in workplace.
• Bluffing: The Magic of His Kiss, Jessica Steele, 1981
Jemma is the less beautiful sister of model Christine, a love 'em and leave 'em type, who is currently in the middle of an affaire de coeur with Mark. Whilst staying with Christine, a Karn Fellingham confronts her, and mistaking her for Christine, offers her an exorbitant amount of money to stop seeing his nephew. Determined to teach him a lesson, and protect her sister, she pretends to be Christine. (THE BLUFF).
Well – THINGS happen. Not the least being a kidnapping to a remote cottage, where Jemma is forced to…clean and redecorate, whilst…Karn…helps…her. I felt like I had fallen into an episode of Better Homes & Gardens, crossed with a dollop of Stockholm's, but this book was TOO cute and by that point I didn't care.
I am resolved to look for more Jessica Steele
• Shotgun: Vanished, Karen Robards – I already mentioned this here — surface to say: many people get shot, including the heroine and the hero. The use of many types of guns including shotguns.
TOTALLY covers this square.
• Dear Diary: The Burning Lamp, Francis Murray
See? I totally waited!
Now anyone who can describe someone as wearing 'hard work like an aftershave while the provocative black rims of his glasses firmly placed him as intellectually mysterious.' is pretty much a winner in my book.
But not only that, Murray has created Phemie, (Euphemia) the single-handedly most fabulous character in the west.
She rejects unwanted marriage proposal like a boss:
"Plain and penniless as I am," said Phemie serenely, "I am quite sure that I must prefer single blessedness to being yoked to a pompous hypocrite."
She adapts on the run:
Esther sat upright. "Where are you off to?"
"The livery stable. We're going to buy a horse and I know nothing about horses."
She moved to the door. Esther scrambled for a shawl and squeezed her feet back into the shoes she had kicked off. "But what the devil use will that be if you can't ride?" she wailed.
"You've twelve hours to teach me."
Schools idiots without the slightest pause:
Mr Lemuel Dutton, the undertaker, rose at the back of the Hall to say that he must disagree with his good friend the Reverend Baker. Argentana was a plain town and plain folk lived there. They could not afford luxuries like hospitals. Taxes was high enough. Argentana had got along very well without any hospital before and in his opinion this idea was plain tomfoolery. Sister Witherspoon rose to apologise to Mr Dutton for proposing a measure which must lead to a reduction in his potential custom. However, she hoped that in time the population of the town would be increased by it so that while his customers might be reduced proportionately they would most likely increase absolutely. Mr Dutton stood for some seconds in silence …
And lives happily ever after with a big burly soldier, who loves her just as she is:
"I like tiny termagants with red hair and tongues like the business end of a hornet. Besides … someone's got to be around to haul you out of scrapes."
Plus, there fantastic conversations like this:
"Her lover has come back from the army."
"Ah!" said her father.
"Nothing of the sort," said Lady Lacombe rather tartly.
"It isn't in the least Ah. He has married some predatory Southern belle and poor Miss Lambe is laid down upon her bed with the headache."
"Oh!"
"Yes. It is much more Oh than Ah."
BEST BOOK EVER.
Others that ticked the box:
• Dance like No-one is Watching: One last Dance, Claire Harrison:
Widowed ballet dancer Marta, struggling to rehabilitate from the car accident that crippled her and killed her husband, is selected to partner with volatile Russian dancer Camir Rudenko.
Like 25 handfuls of glittery unicorn dust; the whole thing was insanely endearing. But then…I've always wanted to be a professional dancer….
I'd be the awkward one with glasses on the end…it's depressing when even Stitch is more graceful…
• Silverback: Island on a Hill, Dixie Browning: Cabel Mccloud (does anyone else think that sounds like the name of a new shade of knitting wool?) is the prematurely grey silverback in question. Frances moves next door to him, determinedly single. We know how long THAT lasts.
• Magenta: The Forbidden Orchid, Sharon Biggs Waller: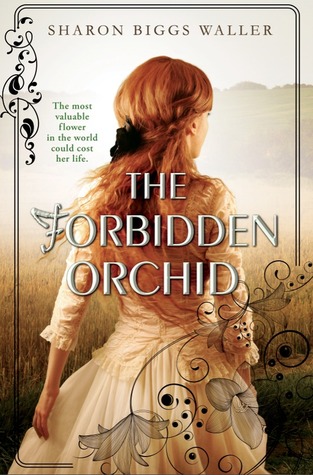 The colour of the orchid in question. I REALLY liked this book. I am not totally sure why – but it sucked me in good  and I had real trouble extricating myself from the lives of staid, responsible Elodie. The eldest of 10 sisters in 1861; her father is a plant hunter, off collecting orchids in China. When he can't repay a debt to a ruthless peer, he is thrown into a debtor's prison, and it is up to Elodie, to travel, with her father (yeah, it's complicated) to China to hunt down the rare orchid as repayment.
Danger, Romance, Sailing the Seven Seas and interesting factoids about orchids, the 19th century and Darwin. A slow-moving and thoughtful book and I REALLY liked it. It actually made me pick up Darwin's Origin of the Species (I mean I immediately put it back down again…) But that is saying a lot right?
• Crush: Hills of Amethyst, Mary Moore: Previously larger-sized Bridget previously had an enormously awkward crush on Gareth Evens. When she unexpectedly meets Gareth again out on a sheep station in New Zealand – Gareth doesn't recognise her and she decides to teach him a lesson. Only doesn't.
Unless we count dating Bridget punishment…which I kind of do.
Ridiculous and trite. The back story was INSANELY long and then there was the horrifying moment when some girls were speculating that 'Frigid Bridget' might not be so frigid if she was raped.
Yeah. So that happened.
• Dark Lord: Out of this Darkness, Madeleine Ker
Cathy Milner: the heroine. Fabian Blackthorne: the hero.
After an entire story, he goes blind. She fixes him. There's more, but it too exhausting to recap. Not that bad. Not that great. But it was 1984. I'll let them pass GO. But they're not allowed to collect $200.
• Non Compus Mentis: The Mad Woman Upstairs: have talked about this here. Definitely a great book – but only if you like all things Eyre…
• Mothership: Ever Since Adam, Terry Lawrence: SOOOO BAAAADDDD. So UNBELIEVABLY bad.  I can't even. Also one of my hideous covers ——
There is ecstasy.
There is growling.
There is space.
Any more explanation and I am afraid my ovaries are going to shut down from the shame of being female.
But what does all that make???
That makes BINGO biyatches!!!!!
(Ahem. Sorry I couldn't help myself. My winning has gone directly to my head.)
If anyone needs me – I'll be in my corner – feeling OH-SO pleased with myself.
Valancy, out.
🙂
*If anyone knows what 'uxurious' means I will reward them with any one single m&m – except for brown…they're my favourite and I eat them first.
Header Image: vintage ad 1950s BINGO