Well.
This was a month.
Would just like to point out that this month's BINGO was nut-ball-crazy-hard.
And I have myself to blame a little cos two of the square were my own choices seeings as I won April… (*shamlessly self-congratulating*)
I had great hopes for May…Alas – twas not meant to be. In short: I read books, I filled squares. And NOTHING lined up in a row.
It didn't help that some of the books were so incredibly bad, that really using them as a BINGO square was the only thing that kept me going….
But here are the contenders:
Epic Disaster Wardrobe Tragedy: The Rulebook – Jennifer Blackwood
Ugh.
A boss/employee romance. Now I don't have a huge problem with that (did you know over 40% of workers have had an office relationship?*)
But this one sank pretty fast to the bottom of the pile.
Heroine is a new employee. Boss is super-hot, super-rich, super-suave and super-ridiculous. He apparently has all these rules that he needs to make business survive. Heroine systematically breaks them. There are about umpteen chapters of the heroine describing in great detail the most uninteresting aspects of her job, life and personality.
The hero is stilted, awkward and so two dimensional I wondered if he'd been cut out of a ken-doll catalogue.
The only remotely funny aspect was the elevator that ate the heroine's Chanel cardigan, which she and her roommate then had a funeral/memorial service for…because there has been MANY a time, I have wanted to do the same for some of my beloved clothes that were wrenched from my life far-far too soon.
Brunch: What the Lady Wants, Jennifer Crusie,
I have to be in the right mood for Crusie – but I clearly was cos I really liked this one. One of those mad-cap, insane family crime saga-things that she did a few of through the 90's, this one has delightful characters and some laugh-out-loud funny moments.
Mitch Peatwick is a private detective . Mae Sullivan, gorgeous and smart-mouthed with a soprano-like family and a case that needs solving.
Missing diaries, hidden money, mistresses, wives, horrible uncles, and bullet-dodging is involved.  Also Brunch. Brunch takes place. In there. Somewhere. Excellent Crusie 🙂
Side Note: I only just realised I read the 197pg M&B version…there's another one that's like 256 pgs long and now I am a little panic-stricken wondering what in the world I missed out on! Who does this to people???!
Love Triangle: Longing, Mary Balogh
I tried – I really did – but the most EPIC of love triangles between a horrible and a handsome. And a tiresome, overly proud, underly interesting heroine that 'just couldn't decide'
I already hate love triangles with the fire of a thousand suns – and this one just kept kicking me in the teeth.
DNF. But still keeping it on my BINGO card.
Close but no cigar: After the Night, Linda Howard
If you want to read the MOST painfully horrifying sex scenes to ever grace a book – then take yourself off to the nearest library and check out this one.
Turgid. This a descriptor that was actually used. Apparently as well, the hero's parts were so utterly gargantuan the heroine thought she might be split in half. (I spent most of the book wondering how the poor man was able to stand up straight.)  
Wince-inducing. Also in there.
But luckily for all everything fitted where it was supposed to for the most eye-rolling sex EVER. So making this book fit in this square seems like the very least I could do….
Lashings: Killing Sarai, J.A. Redmerski
Honestly I don't even know how this made it to my list, possibly the shades of Leon: The Professional in the blurb. Also that cover is pretty interesting.
But: meh.
There's a professional killer. (Is there a difference between an assassin and a pro-killer???) There's a girl who is escaping a mexican drug lord. Unfortunately she is a special white snowflake that the drug lord wants back pronto. Chasings, killings, inappropriate attachments between murderers and victims. It's all there. But really? The Professional: SOO much better.
Train Travel: Silence for the Dead, Simone St James
I haz sad, because now I am all read up on St James and am just waiting for her next one….sigh.
This one was pretty great. Atmospheric ghost story set in a suitably creepy location, that the heroine travelled to by TRAIN.
It also confirms my belief that should at any point I be whisked back in time 100-odd years, my First Aid Certificate would pretty much ensure I could make a suitable attempt at being a nurse, without anyone being the wiser… reassuring for those late night worries.
Set in 1919, Kitty Weekes, falsifies her background to obtain a nursing position at Portis House. Hospital for the shell-shocked soldiers of the Great War.
The house is rotting away, there are creepy noises in the night and strange dreams all haunt the men.
Also, there is Jack Yates: a war hero, a madman… or maybe both.
He and Kitty are determined to uncover the truth, it's an interesting mystery. (Not difficult to solve, but still interesting to read). Additionally, the ideas around war, PTSD, and the survival and after-care of these heroic men is really worth the read.
Touch Vs Sight: Blind Curve – Annie Solomon
The only note I had for this book was 'urghhh' which despite being exceedingly expressive, wasn't amazingly explanatory – so I had a quick re-read.
Urghh indeed.
Danny Sinofsky goes blind from trauma in the midst of a weapons bust (he is police-y); Martha Crowe, is his mobility instructor, supposed to assist in his rehabilitations. Something ridonkulous happens and they're in a safe house together, which of course means they're going to have sex. I really couldn't continue with the farcical ludicrousness that was purporting itself as plot.
I DNF'd but still used it as a square.
Sorry, not sorry.
A Walk in the Park: Less a Stranger, Nora Roberts – ranted about that here….
Abstinence: Ruined, Amy Tintera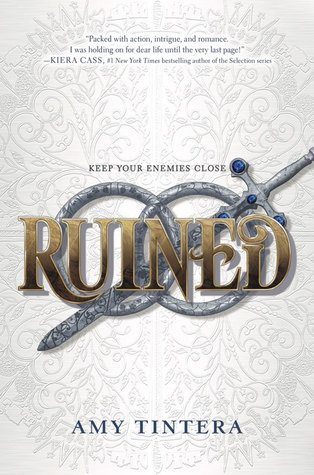 A YA addition to the rather large niche section of novels featuring princesses in obscure fantasy worlds that have been unfairly exiled and are desperate to wage war against the enemy and take back their kingdoms.
Abstinence refers the number of times the two protagonists almost ended up doing the deed only to be stopped by various forces of magic and nature. So more like enforced abstinence.
I quite liked it all except for the HORRIFYING cliffhanger —— why do these books not carry warning labels????
I can't wait two years for the next one – that is cruel and unusual punishment. And another reason why I wait until an entire series is complete before I start in on it…
Dead Dogs: The Obsession, Nora Roberts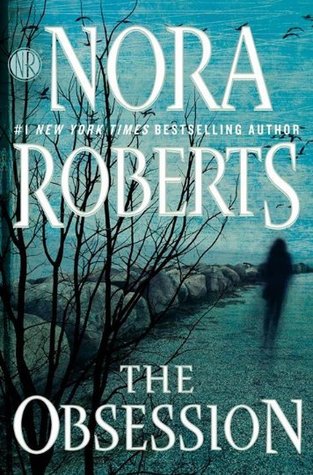 Until this point I had never actually read a Nora Roberts (yes – I heard that gasp) I have never been that interested and there are SO dang many I could never even begin to pick a place to start.
Luckily Erin reviewed this one – and it sounded promising.
It was. I really liked it.
I have since read, I think, 5 more – but I didn't like ANY of them. There was one particular one set in Alaska (maybe?) that was like 12 shades of horrificness on ice…
So now my faith has wavered slightly – but Obsession was GOOD.
If I was objective I would say that there was waaaay too much filler regarding house-redecorating and reclaiming furniture and photography – but I looove all those things – so I didn't care.
Almost poisoning of a dog – plus almost murdering of the same dog – so I squeezed it into this square.
It almost fits 🙂
That Dress: Almost a Scandal, Elizabeth Essex (ZOMG!) I have already waxed lyrical about that here. The dress at the end – was a TOTAL that dress moment.
That Dress + That hero = HEA
Elemental My Dear Watson: Mercenary Instinct, Ruby Lionsdrake
Read because Lionsdrake is the pseudonym for Lindsay Buroker, whose Emperor's Edge series I loved.
This has people chasing other people in space – but alien artefacts, mining and other things come up too.
SUPERIOR world-building and likeable charcters, plus some laugh-out-loud lines. But only read if you like a healthy dollop of not-that-well-written sex. I have already exceeded my quota of horrifying sex scenes for this month (citing above Linda Howard) — so I tended to skip those bits – does that make me a bad person??
****
And that be my BINGO!! It's late, but it's here 🙂
'The time has come,' the Walrus said, 'To talk of many things: Of shoes–and ships–and sealing-wax– Of cabbages–and kings– And why the sea is boiling hot– And whether pigs have wings…' Or – more importantly – my Middlemarch review – which is still forthcoming.
What? 2 out of 3 isn't that bad!
Sincerely,
Vacancy: feeling extremely optimistic about THIS month's BINGO —
*also, did you know over 75.6 % of statistics are made up on the spot…? Some one actually checked!
Header Image: Fragrant Summer. Edward Cucuel (American, 1875-1954). Oil on canvas.