Hello my lovelies!
Belated New Year Greetings.
My New Year was spent quietly drinking away the trauma of The Holiday Season – it was lovely. (The drinking, not the Season (!))
I have now hopefully repressed the horrific-ness enough, that by the time it comes to 2017 Christmas…I won't remember 2016…and I will once again be caught off guard by snooty tourists, demanding customers, a complete lack of parking and the piercing and strident vocals of the 'can-I-please-see-a-manager-about-this' Soccer Mums
Yes. They are a breed entirely to themselves…
This left very little time for reading, but what snatches I grabbed, I chose planets, Kingdoms and worlds far-far-away from this one.
Escapism Reading at its best gentlepeople.
One in particular:
The Bird and the Sword, by Amy Harmon.
I have always been a fan of Amy Harmon. Although it has ebbed and flowed a little bit.
Generally about youngish people, her books often cover themes that aren't YA, but are a little too simplistic to be New Adult (ridonkulous genre titling); and whilst romances, they also have some inspirational/Christian elements, though often not enough to fit into an Inspirational category.
I always had to be in specific TYPE of mood to read them, and stopped being in that mood about 5 years ago.
A few more recent releases came and went and I ignored them, but then: The Bird and The Sword.
A total left field, new world, fantasy addition to Harmon's catalogue which kind of blew me away.
The day my mother was killed, she told my father I wouldn't speak again, and she told him if I died, he would die too. Then she predicted the king would sell his soul and lose his son to the sky.
My father has a claim to the throne, and he is waiting in the shadows for all of my mother's words to come to pass. He wants desperately to be king, and I just want to be free.
But freedom will require escape, and I'm a prisoner of my mother's curse and my father's greed. I can't speak or make a sound, and I can't wield a sword or beguile a king. In a land purged of enchantment, love might be the only magic left, and who could ever love . . . a bird?
Set in an Medieval-esque kingdom called Jeru,  it builds on the concept of the power of words (citing a Biblical verse as its base) and imbues them with magic.
In Jeru, there are people that are Gifted. Their talents can be divided into four areas:
Spinning (making things – like straw – into Other things – like gold)
Changing (shape changing into animals)
Healing (rather obvious)
Telling (using words to create life, power and manifesting true actions)
Like all good fantasy stories, those with Gifts must keep them hidden for fear of punishment and death.
It is a clever, if standard stab at fantasy fiction, and I will be completely honest, I was not expecting a huge amount from the story. But I was wrong and I am confessing it to all.
This book is elevated completely by its two main protagonists, their romance and the twist at the end that dang near broke my heart.
It's a story of two broken people, burdened by the sins (real or perceived) of their parents.
It's a story of love and loathing and dependency and desperation.
It's a story of prejudice and hatred, born of fear and a lack of knowledge.
It's slightly allegorical, a little bit off-the-wall and completely riveting.
Lark is a Teller, cursed with muteness(for protection), by her ill-fated mother  who was also a Teller.
She exists on the fringes of society, an outcast; unwanted by her father and the village she lives in. She can hear words, see power, but is unable to verbalise it. Kept ignorant and uneducated, she cannot read, and is only able to communicate via a primitive form of sign language and crude illustrations.
Tiras is a prince (of course, you say), burdened with a curse, that he thinks Lark may be able to fix.
There is abduction and kidnaping, people locked in towers, monsters ravaging kingdoms and evil beasts; opposites attracting, stalwart loyal brothers in arms and a Troll.
If the world building is a little hazy at times; (it seems to hover in this awkward space between classic fairytale setting, complete with prophecies and curses and a medieval dogs-of-war thing), it is still very well conceived.
As the story plays out, the whole concept of talents and powers and magic is strengthened; imbued with elements of mythology and fairytale and fleshed out to a cracker of a plot point.
I would put in quotes to convince you, but frankly, every single bit is both quotable and a spoiler.
So I won't.
I will say, it is like a LAND-version of Disney's The Little Mermaid. On Crack.
It's like this:
Plus this: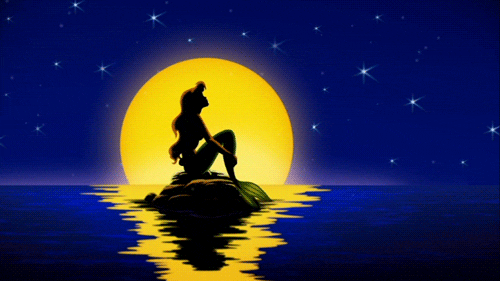 A healthy dose of this:
One of these:
A lot of this:
And ending with this:
So, if you are looking for fantasy romance with more fairytale than a Disney Princess, a nice dollop of substance and a HEA?
Go forth and find The Bird and The Sword.
Sincerely,
Valancy: Breaking out the Disney Princess dolls. What? They are COLLECTIBLES. That I have tea parties with…
🙂
Header Image: Japanese Brush Painting, vintage, artist unknown