<<TBR CHALLENGE 2017: AUGUST>>
Note: Jane at Greenish Bookshelf and Jackie at Death By Tsundoku are co-hosting the Anne of Green Gables series readalong – #AnneReadAlong2017; totes check out their blogs if you want to cave to peer pressure and join in the fun 😉 
This month has been one of waiting. An inordinate amount of waiting: in airports, at bus stops, train stations, in taxicabs; in fact my life over the last few weeks has felt like some fifth level limbo but with extra good books.
The bonus of this though, is that I have got through scads of books. My TBR List seems to have reduced considerably. (Thus my long post!). Enforced confinement in uncomfortable non-ergonomic chairs has its benefits.
I have even read an entire non-fiction Book, (the second this year!!!!) which is extraordinary for a number of reasons not the least of which is that generally, non-fiction books (like brussel sprouts) are against my core beliefs as a human…
I am grouping authors and books in clusters because reading-whilst-waiting, is a peculiar and sometimes difficult process.
What works in one place doesn't always work in another. Ambient noise plays an enormous role in the ability to concentrate, absorb storylines, and sink into a book; smells, seating and how concentrated you are not missing your next stop/flight/appointment all affect reading levels. And then there is that fickle compatriot: Mood….
LIGHT COMFORT ROMANCES
Liz Fielding
The Sheikh's Convenient Princess
The Secret Life of Lady Gabriella (particularly good)
Dixie Browning
The Love Thing (sadly, possibly the WORST title AND cover in almost the history of the world…but a rather good read…)
If you need something that is short and light but still delightful then Liz Fielding and Dixie Browning are definitely the way to go. Category in length, easy to get through you can read one of these in an hour maybe two.
Inherently fairy-tale-like, although with two different takes: (a) the ordinary, competent, grounded heroine with the play-boy prince charming; and (b) the manic-pixie-dream-girl with the unsmiling, slightly scarred hero.
They both feature ordinary girls making that seamless leap from working class to princess with nary a teeter of high heels. They're not deep and they are definitely not complex but they are easy to read, and like those wee little tubs of ice cream they hand out in flight… they go down a treat.
Useful bus/ appointment waiting reading – plus they have the added bonus of making you feel like you could accidentally get caught in a rainstorm meet-cute, or a miss-a-train plot device… all you need is someone tall, dark and delicious could be there to rescue you….
See? 
Also this completely fulfils my TBR Challenge reads of Kickin it old School from the insanely-cool and fabulous Wendy-the-Super Librarian (bonus points 😉 )
IN FLIGHT READING
David Sedaris
When you are Engulfed in Flames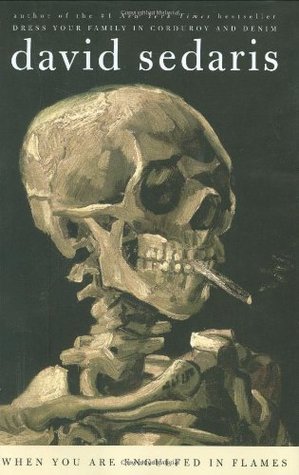 When you confined to a tiny chair with hardly any leg room and you know you are going be there for at least the next 15 hours; a humorous, non-fiction, vaguely memoir-ish book, I have found, can be just the ticket. Sedaris was exactly what I needed to stop me from running up and down the aisles screaming. Funny, clever, bitingly cynical, ascerbic and written in these anecdotal drops which make it easy to dip in and out of, this was such a good book.
'…The desire to pass is loaded territory and can lead to the ugliest sort of argument there is. "You want to be French, Mary Frances, that's your problem, but instead you're just another American." I went to the window for that one and saw a marriage disintegrate before my eyes. Poor Mary Frances in her beige beret. Back at the hotel it had probably seemed like a good idea, but now it was ruined and ridiculous, a cheap felt pancake sliding off the back of her head. She'd done the little scarf thing, too, not caring that it was summer. It could have been worse, I thought. She could have been wearing one of those striped boater's shirts, but, as it was, it was pretty bad a costume, really….'
Completely quotable and had me snorting with laughter whilst trying not to wake up a person snoring next to me.
'…Like any normal fifth grader, I preferred my villains to be evil and stay that way, to act like Dracula rather than Frankenstein's monster, who ruined everything by handing that peasant girl a flower. He sort of made up for it by drowning her a few minutes later, but, still, you couldn't look at him the same way again….'
***
'…Turn down a drink in the United States, and people get the message without your having to explain. "Oh," they say, ashamed of themselves for presuming otherwise. "Right. I should probably . . . quit too." In Europe, though, you're not an alcoholic unless you're living half-naked on the street, drinking antifreeze from a cast-off shoe. Anything shy of this is just "fun-loving" or "rascally."…'
Also, as partly a travel narrative, it feels like Sedaris is sympathetically commiserating with of all your journey's ills; although he probably wouldn't give two hoots in reality – such is the power of his personable, conversational style, that you FEEL like he might…
***
'…In the spotless restroom of the Tamachi station, I noticed that beside each urinal there's a hook for your umbrella. It's just another of those personal touches that keep you coming back…
In the lobby of our building, there are four leather sofas and two coffee tables. People occasionally sit down there, but not too often. "Maybe because of this," Hugh said yesterday, and he pointed to a sheet of rules written in Japanese. "No smoking" was clear enough, just a cigarette with a slash through it. Then there was "no drinking milk from a carton" and what was either "no eating candy hearts" or "no falling in love."…'
GOTHIC/TRAVEL
Barbara Michaels/ Mary Stewart
To take you out of your current discomfort, there is no cure like a Barbara Michaels or Mary Stewart. My love of both of them knows no bounds. They are ALWAYS on the keeper shelf and are the perfect reads for a hotel stay.
The Master of BlackTower (particularly good!)
Michaels has the whole Gothic romances, contemporary mysteries  thing down pat, complete with ruined castles, ghostly manor estates and husbands trying to murder innocent wife's for their inheritance.
When I read:
'I knew, already, what the Guide had to say about my new home: "The wildest, most desolate part of the Highlands." It was not overstating the case…'
I snuggle back and feel smugly satisfied that this is going to be a good read…
Also:
'I looked at Mrs. Cannon, and my dismal mood lightened a bit. Swathed in a wonderful mantle of purple taffeta lined with fur, Mrs. Cannon slept as placidly as a baby in its cradle. Her mouth was slightly ajar, displaying a set of china teeth too perfect to be natural. On her head was the latest style in bonnets-a broad-brimmed straw with ribbons three inches wide. They were tied in a huge bow under her chins, and she looked for all the world like an enormous lavender pussycat…'
lol.
Plus:
'I realized, then, the utter ruthlessness of desire. The odds were all against me; there was nothing in my favor. The weather, my female constitution, my poor horsemanship, even the time of day, all made failure a foregone conclusion. Yet none of them dismayed me; none even roused a doubt in my mind. Only one thing mattered: to reach Blacktower House…'
(Did I mention SOOOO good!??!!!)
Stewart has a number of tones depending on which book you read. Ranging from ingenue in another country plus mystery, to quintessential English manor  plus mysteries; Stewart's  novels are like the perfectly accessorised bag – you can always find the right one for the occasion
METRO/TRAIN STATION WAITING…
Hester Browne
If you love quirky, Britishly humoured, oh-so-slight romances, you should definitely give Browne a try.
Admittedly I have only read the one – BUT it was a REALLY good one:
'It was astonishing what Max could sell, simply by draping his lanky frame over it and flashing his Heathcliff eyes. Only now they were looking less Come to bed, Cathy and more I'm going to burn down your house and do something unspeakable to your puppy…'
***
'My name is Evie Nicholson, and I am addicted to The Past…Or maybe I was just a thwarted aristocratic collector trapped in the body of an underpaid London singleton…'
Light, funny and oh-so-cute – I will definitely be looking for more.
And last but not least:
REQUIRED READING
The perfect time to catch up on that book you were supposed to have read, but kept putting off because there were about eleventy-twelve other more interesting books to read? When you are stuck, waiting for SOMETHING.
Delayed flights are an excellent place for this – you can channel all that frustration into something useful. I end up feeling a little virtuous: it would've been a total waste of 4 ¼ hours – but oh no, I did something worthwhile, whilst trapped in that purgatory wasteland known as Gate 93…
This month is was L M Montgomery's Anne of Windy Poplars (or Anne of Windy Willows as it is know over here); part of the #AnneReadAlong2017 and my own Project: Montgomery
To catch you up from Anne of the Island:
Anne (with an e) has left College and started a new job in Summerside, as school principal. Gilbert is off-page studying medicine and most of the story is epistolary in nature, by way of Anne, writing to Gilbert.
There are some third person narrative moments as well, which leavens the whole thing a bit.
There aren't any familiar faces, but rather a whole swag of new ones: from the Pringles – the First Family of Summerside, to her boarding house peeps, Aunt Kate and Aunt Chatty and the indomitable Rebecca Dew…plus the luminescent Elizabeth, a child that lives next door…
The new characters all still feel a bit the same as the familiar though, as they all basically fulfil the same roles: Rebecca Dew and the Aunts are fill in for Marilla and Rachel Lynde; Elizabeth is the Paul Irving replacement and all the children at school fill up the Davy/Dora Void…
Although not often headlining the 'favourite Anne books' list; I liked this one MUCH more than I remember; it was sort of like a scrapbook – bits of life and letters squished into a notebook. It also has some beautiful lines:
"I'm afraid I'm scandalously in love with you, Gilbert."
***
'Do you think it wrong to give children candy in church, Miss Shirley? Not peppermints. That would be all right. There's something religious about pepper-mints, don't you think?
And some fabulous descriptions:
'It is the tiniest of stoves; I could pick it up in my hands. It looks just like a pert little black dog on its four bandy iron legs. But when you fill it with hardwood sticks it blooms rosy red and throws a wonderful heat, and you can't think how cosy it is…'
***
'…There was a window-seat in the 'tower' with a round blue cushion on it, a cushion with a button deep in the centre, making it look like a fat blue doughnut…'
Anne is more grown up  and runs around mostly just fixing other peoples problems, but occasionally she reverts back to that whimsical day dreamer of old and it's nice to see.
Whilst not quite as fun as Anne-of-old; it is realistic …and reads authentically – and I really appreciated it.
So.
There you go.
TBR: Check
Non-fiction book: check
Required Reading: check
Fabulously good reads for almost any enforced period of waiting: DOUBLE check.
Plus bumper book post to make up for looooong absences in recent times: triple check 
And squeezing it all in before the end of August??? Perfect. (I am awarding myself brownie points… :))
'til next time kittens…
Sincerely,
Valancy: Cashing in brownie points for ACTUAL brownies…SOO much more satisfying!
🙂
Header Image: The Pride of Dijon, 1879, Hennessy, William John (1839-1917)